Gluten-Free Lemon Pecan Cake
Prep Time
20 Minutes
Difficulty
Easy
Cook Time
45 Minutes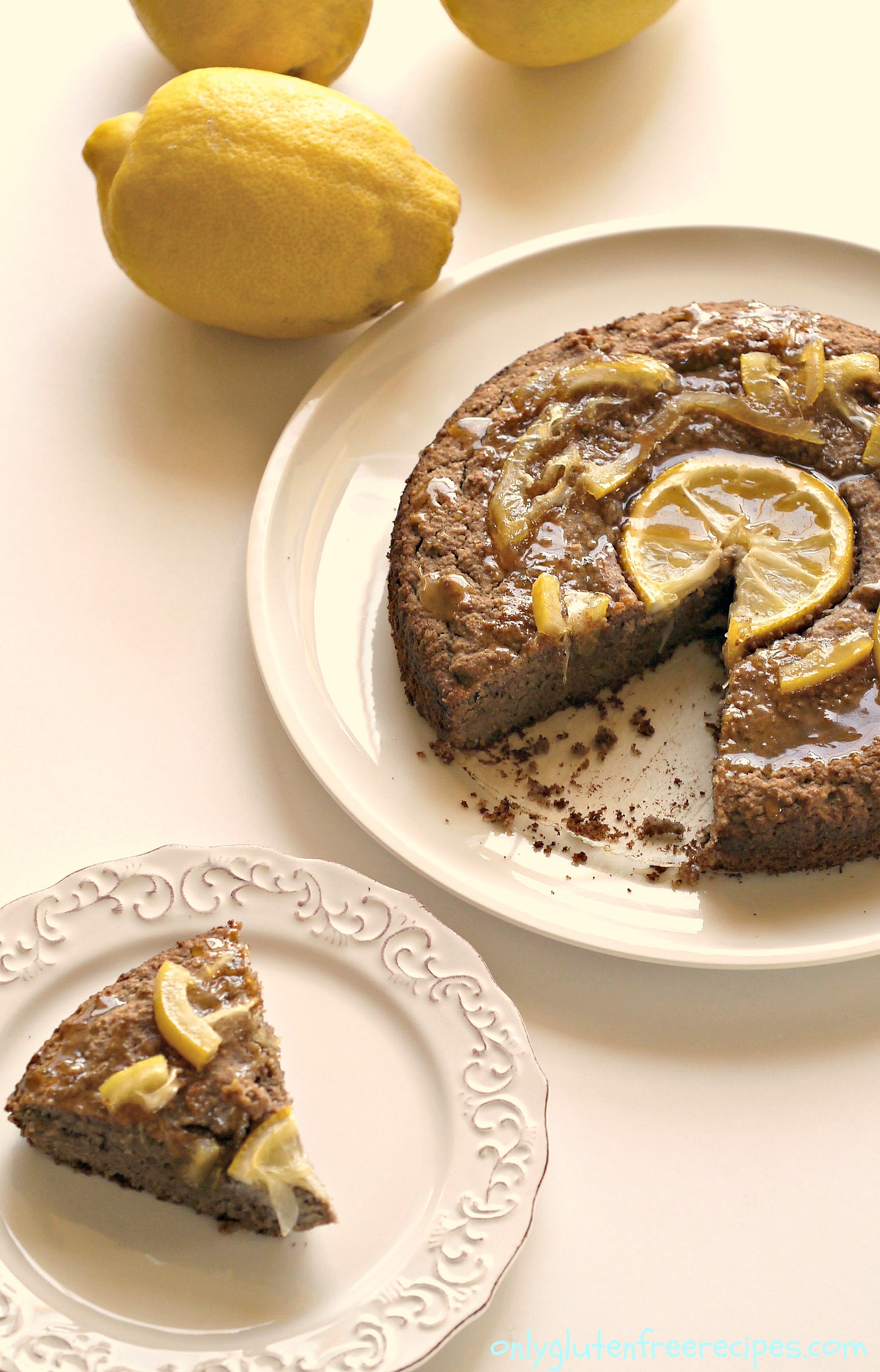 This is a gluten-free, grain-free and dairy-free cake. This lemon pecan cake is infused with fresh lemon juice making it a moist and fluffy dessert that is finished with a zesty glaze. Because of the healthy ingredients used in this cake, you can also serve it for breakfast or anytime snack.
Ingredients
3 cups pecan halves
½ cup coconut flour
1 tbsp. gluten-free cornstarch
1 tsp. gluten-free baking soda
¼ tsp. sea salt
3 organic eggs, room temperature
1/3 cup extra virgin olive oil
½ cup pure maple syrup
½ cup freshly squeezed lemon juice
1 tsp. pure vanilla
1 tsp. freshly grated lemon zest
FOR THE GLAZE
1 tbsp. butter or coconut oil
1 organic lemon, thinly sliced and cut into small pieces
¼ cup pure maple syrup
Instructions
Preheat oven to 350 and line a 9-inch spring form cake pan with a circle of parchment paper
Add pecans into a food processor and process until the texture becomes like flour, and then add in coconut flour, cornstarch, baking soda and sea salt and pulse few times until all ingredients are well combined.
Separate the eggs into two bowls, and then add olive oil, maple syrup, lemon juice, vanilla and lemon zest in the bowl with egg yolks and mix
In another bowl beat the egg whites until they form a peak.
Add dry ingredients to a large bowl, and then stir in egg yolk mix until all ingredients are well combined
Then gently fold in egg whites and transfer batter into spring form cake pan, top with a thin slice of lemon.
Bake for 45 minutes, then cool completely before removing from cake pan.
FOR THE GLAZE
Add butter, lemon slices and maple syrup in a small saucepan and cook over low heat until the glaze slightly thickens about five minutes, and then drizzle over the cake. Enjoy!
© Copyright 2017 Only Gluten Free Recipes. All Rights Reserved. Designed & Developed by GuaranteedSEO