Gluten Free Classic Chicken Noodle Soup
Difficulty
Easy
Serves
6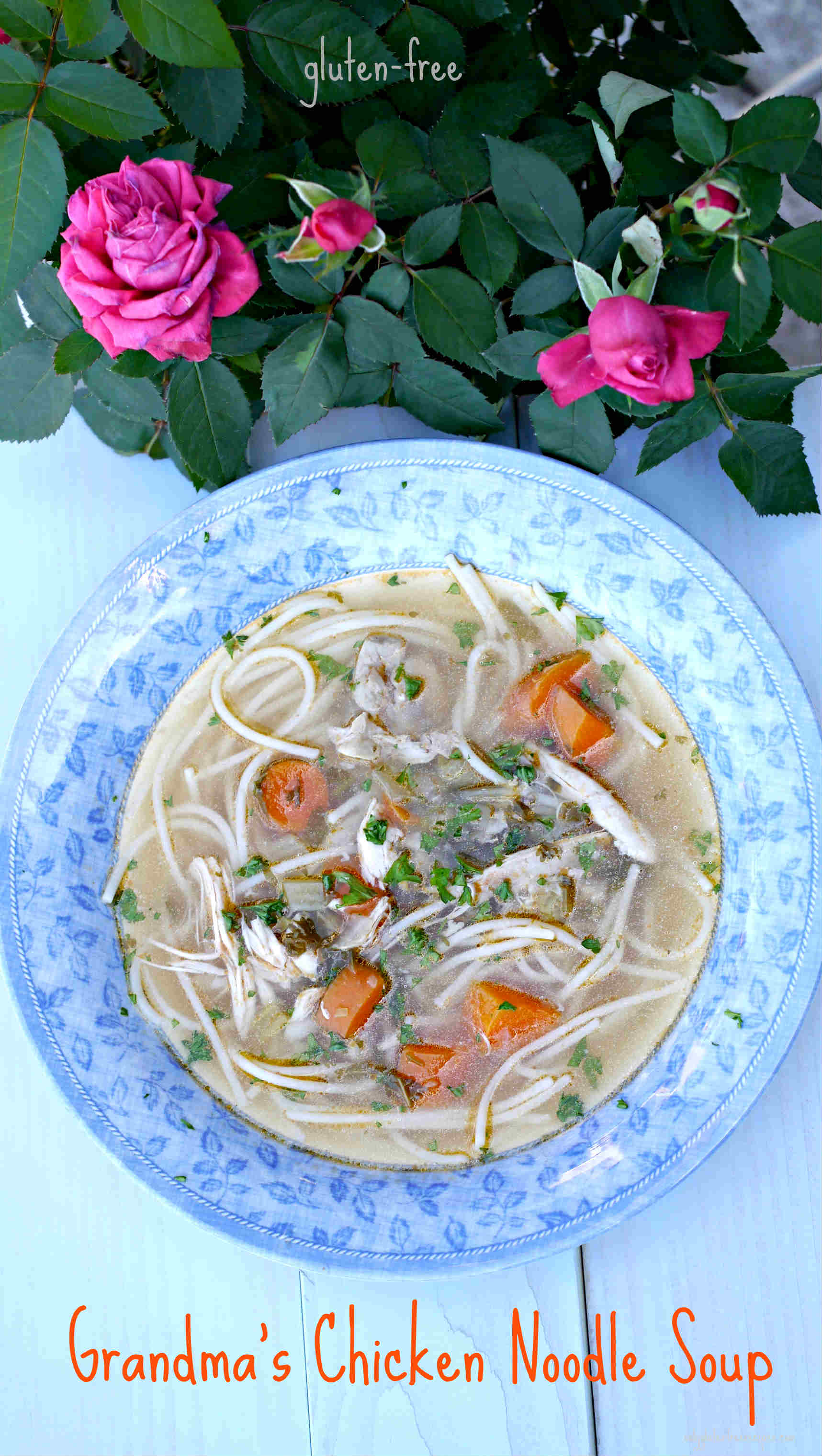 Average Rating: 4 | Rated By: 1 users
Nothing beats homemade chicken noodle soup when it comes to comfort food during cold and flu season. Homemade chicken noodle soup is low in calories and rich in essential nutrients. Chicken broth is known to help with sickness symptoms and has many other health benefits.
A good home made chicken soup is rich in protein, calcium, gelatin from slowly cooked bones and vitamins and minerals from added vegetables. The gelatin in the chicken stock provides the body many health benefits such as glycine, an amino acid that is crucial for liver detoxification. Another important benefit you get from good old-fashioned chicken soup is electrolytes, which are especially important when your body is dehydrated. This is why a home-made classic chicken noodle soup is important in a balanced diet. The best part it tastes delicious!
Ingredients
6 free-range chicken thighs, bone in, skin removed
1 tbsp. extra virgin olive oil
1 organic medium onion, chopped
1 organic garlic clove, chopped
1 GF bay leaf
1 tsp. GF thyme leaves
6 cups of water
2 organic carrots, cut to small bite size pieces
1 organic celery, cut to small bite size pieces
½ cup frozen organic baby peas
½ cup organic parsley, chopped + some for garnish
sea salt and GF freshly ground pepper to taste
1 package of rice noodles, or your choice of GF noodles, prepare as per cooking instructions on the package. If you are making it paleo I use shredded organic zucchini instead of noodles
Instructions
In a large pot add olive oil and onions, sauté for 5 minutes, add garlic, bay leaf, thyme and sauté for 1 more minute
Add water, chicken, sea salt and pepper, simmer on low heat for 45 minutes with lid on
Add carrots, celery, peas and parsley and simmer for another 15 minutes
Remove bones and bay leaf
To serve, place noodles in a soup bowl and add hot chicken soup, garnish with parsley. Sometimes I add a little freshly squeezed organic lemon juice.
Similar Recipes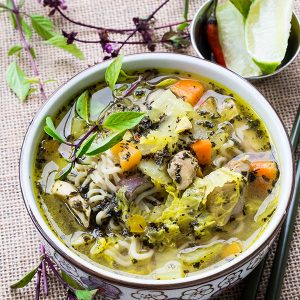 Basil and Lime Chicken Ramen Soup
Vietnamese Pho meets classic chicken soup. This gluten free soup is light and nourishing filled with light veggies and tender chicken. This is the kind of clean, uncomplicated chicken soup you long for in cold winter months. This soup relies on basil and fresh lime juice to bring out the ultimate flavour Read More
Prep Time
15 Minutes
Difficulty
Easy
Cook Time
15 Minutes
Serves
4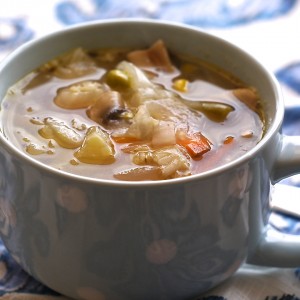 Chicken Gumbo Soup
This is a hearty and delicious soup loaded with healthy nutrients. Serves 6 Read More
Prep Time
15 Minutes
Difficulty
Easy
Cook Time
25 Minutes
Serves
6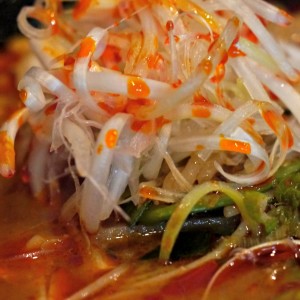 Easy Spicy Chicken Ramen Soup
This is a hearty noodle soup served in Japan often as a main course. Ramen is a staple noodle in Japanese cuisine. This is an easy beginner ramen recipe and you can make it as spicy as you like. Read More
Prep Time
15 Minutes
Difficulty
Moderate
Serves
4