Gluten-Free Chocolate Cupcakes with Raspberry Frosting
Prep Time
15 Minutes
Difficulty
Easy
Cook Time
20 Minutes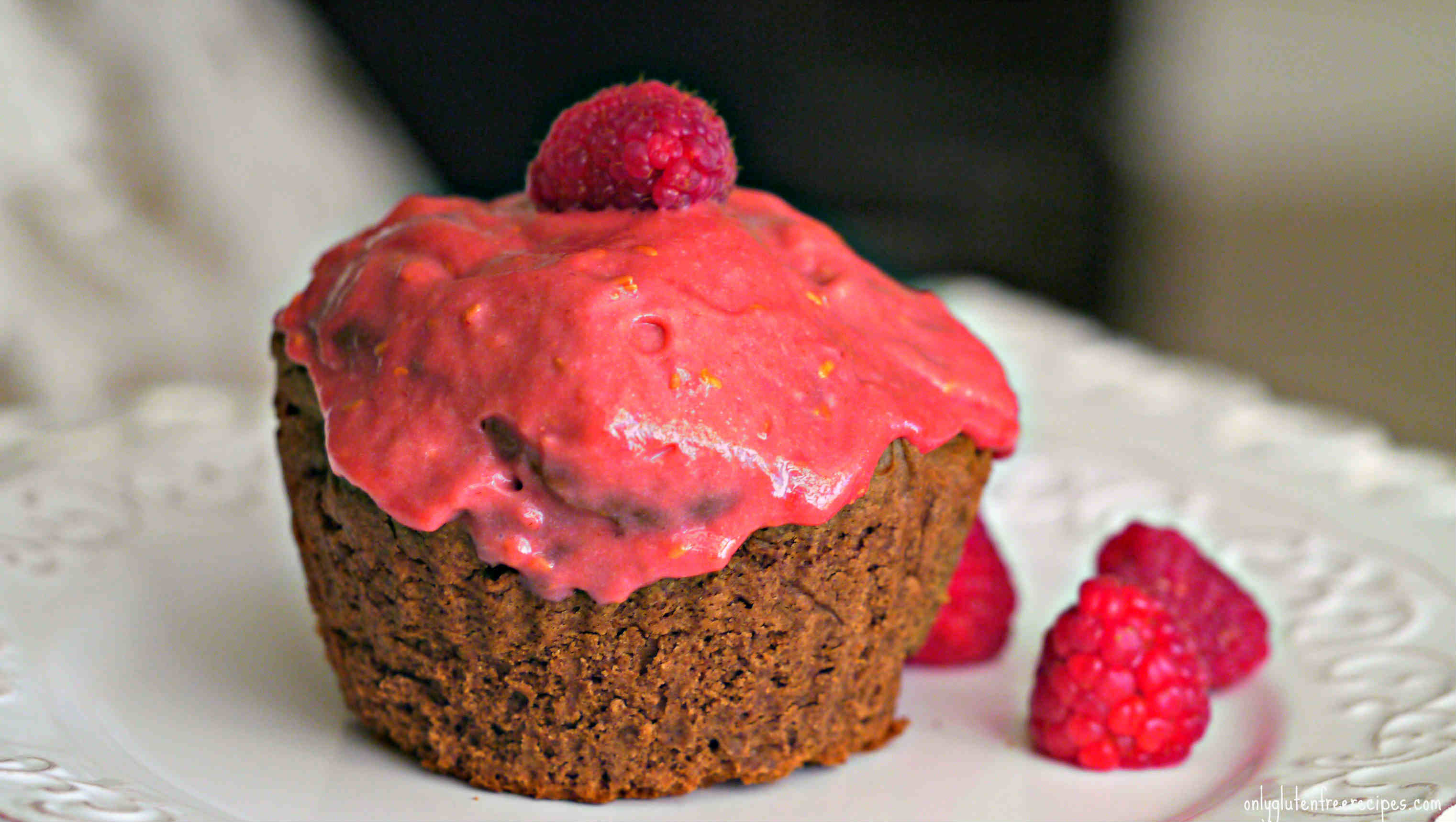 These are chocolate cupcake gems. They are moist and deliciously flavoured with pure cocoa and are made without saturated fats or processed sugar. Now you can serve healthier option of cupcakes to your family. Be sure to make enough because they are addictive!
Ingredients
1½ cups Gluten-Free All-Purpose Flour (I used cup 4 cup)
2 tsp. baking powder (preferably aluminum-free)
½ tsp. baking soda
½ tsp. sea salt
½ cup pure unsweetened cocoa powder
¾ cup pure maple syrup
½ cup extra virgin olive oil
3 large eggs, at room temperature
2 tsp. pure vanilla
¾ cup low-fat sour cream, at room temperature
FOR THE FROSTING
1 cup fresh raspberries
1 cup low-fat cream cheese, at room temperature
¼ cup pure maple syrup
1 tsp. pure vanilla
NOTE: All ingredients must be gluten-free and preferably organic
Instructions
Preheat oven to 350 F and line a muffin pan with parchment paper muffin cups
In a medium size bowl whisk together flour, baking powder, baking soda and salt
In a separate bowl, whisk the cocoa, maple syrup, olive oil, eggs and vanilla until frothy, about 2 minutes. Then stir in sour cream.
Whisk in the dry ingredients until smooth
Fill the muffin cups and bake for 20 minutes or until a toothpick inserted in the cupcakes comes out clean
Transfer the cupcakes to a cooling rack until completely cooled
FOR THE FROSTING
Place all the frosting ingredients into a blender and blend until smooth, and then refrigerate for two hours before decorating your cupcakes
© Copyright 2017 Only Gluten Free Recipes. All Rights Reserved.