Gluten Free Asian Ribs – Easy Recipe
Prep Time
10 Minutes
Difficulty
Easy
Cook Time
50 Minutes
Serves
4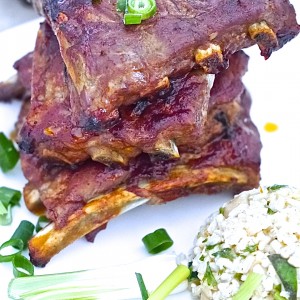 The tender ribs are deliciously flavoured with sticky ginger and garlic sauce. The ribs can be cooked on a barbecue or in the oven
Ingredients
2 lbs. pork back ribs, cut into serving size portions
4 garlic cloves minced
2 tbsp. freshly minced ginger
½ cup pure maple syrup or agave nectar
¼ cup gluten-free tamari sauce
1 tsp. grape seed oil
1/2 cup sliced green onions
Instructions
Place ribs into a large pot of salted water and simmer for 40 minutes then drain. This will tenderize the ribs and remove some of the fat.
Whisk together garlic, ginger, maple syrup/agave nectar, tamari sauce and grape seed oil, Brush ribs with the sauce and refrigerate for one hour
Heat up a barbecue and cook ribs 5 minutes on each side or until the sauce becomes slightly charred, brushing with left over sauce as needed. Garnish with green onions
FOR OVEN METHOD: Preheat oven to 450 F. Place ribs in a baking pan lined with parchment paper and brush with sauce. Cook for 10 minutes or until the ribs start browning. Brush with left over sauce as needed
© Copyright 2017 Only Gluten Free Recipes. All Rights Reserved.