Easy Vichyssoise Soup Recipe
Prep Time
20 Minutes
Difficulty
Easy
Cook Time
40 Minutes
Serves
6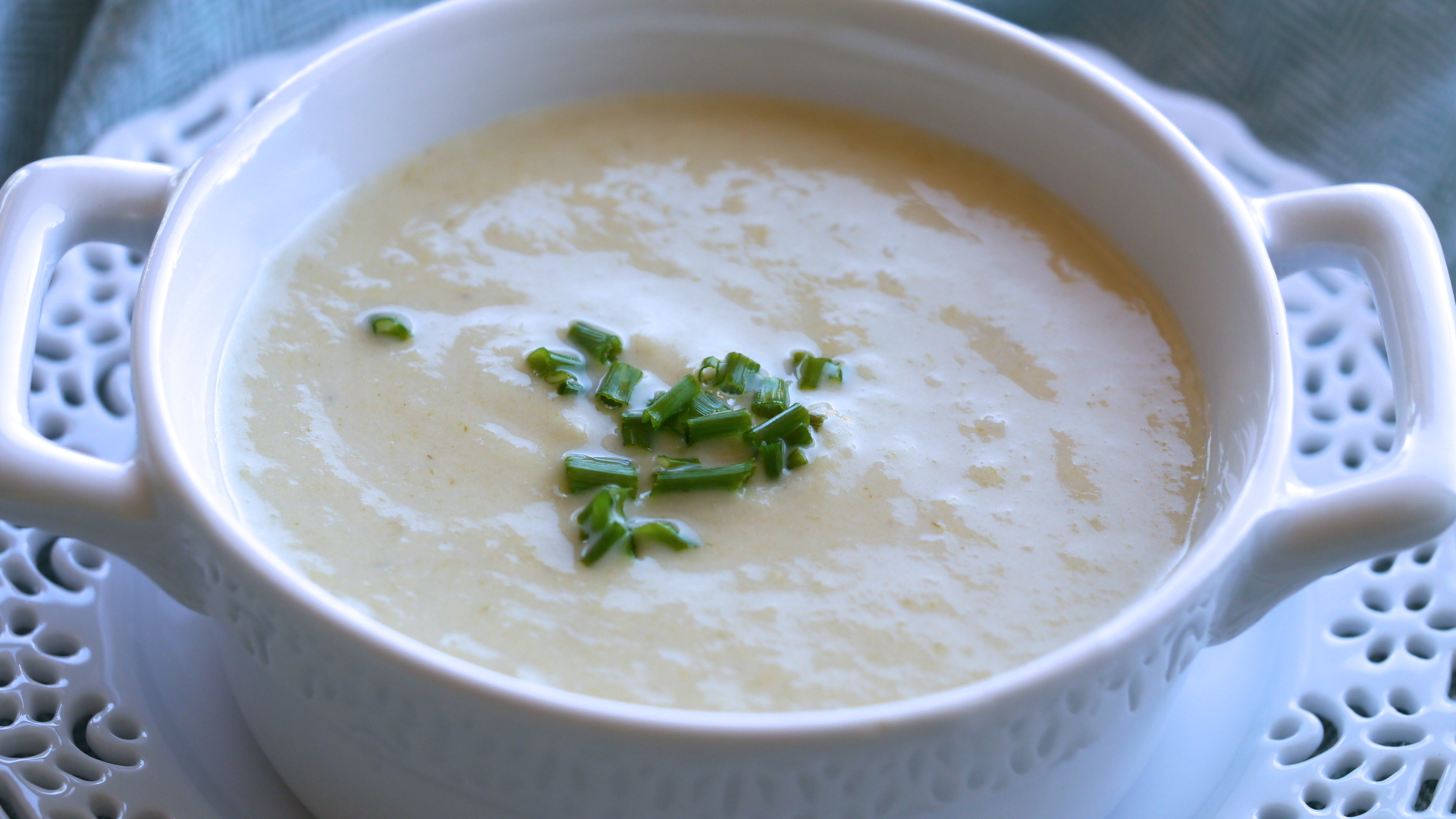 Average Rating: 5 | Rated By: 1 users
This is a perfect soup to serve on a hot day, it is served chilled but you can serve it warm as well, it is is creamy and refreshing, I have not added heavy cream, because I feel it does not need it. By using low fat sour cream you will get the same creamy delicious flavour without all the fat. If you prefer the soup to be thinner consistency just add a little more milk. Another good thing about this soup is that it will keep in the fridge up to 5 days becoming more delicious with each day.
Serves 6
Ingredients
4 tbsp. extra virgin olive oil or 5 tbsp. organic butter
8 leeks, white part only (cut lengthwise and clean well, then thinly dice)
2 organic potatoes peel and cut into small chunks (Yukon gold are a good choice but any potato will do)
3 cups organic GF chicken stock
1 organic GF bay leaf
2 cups organic full fat milk (depending on how creamy you like it, you can use 1%)
1-cup organic low fat sour cream (not fat free)
Pinch of organic GF nutmeg
Sea salt and organic GF freshly ground black pepper
½ cup chopped organic chives
Instructions
Add olive oil or butter into a large pot and heat, add leeks and sauté on low heat for 8 minutes make sure they do not brown, add potatoes and sauté another minute while stirring
Stir in the chicken stock, bay leaf and bring to boil, cook on low heat for 30 minutes
Cool slightly, remove bay leaf and puree in food processor or blender, return back to pot and add milk, sour cream, nutmeg, salt and pepper, stir well and cool to room temperature, then cover and place in the fridge overnight.
Remove from the fridge 20 minutes before serving. Top with fresh chives.