Cinnamon Chia Pudding with Cherry Compote
Prep Time
10 Minutes
Difficulty
Easy
Cook Time
5 Minutes
Serves
4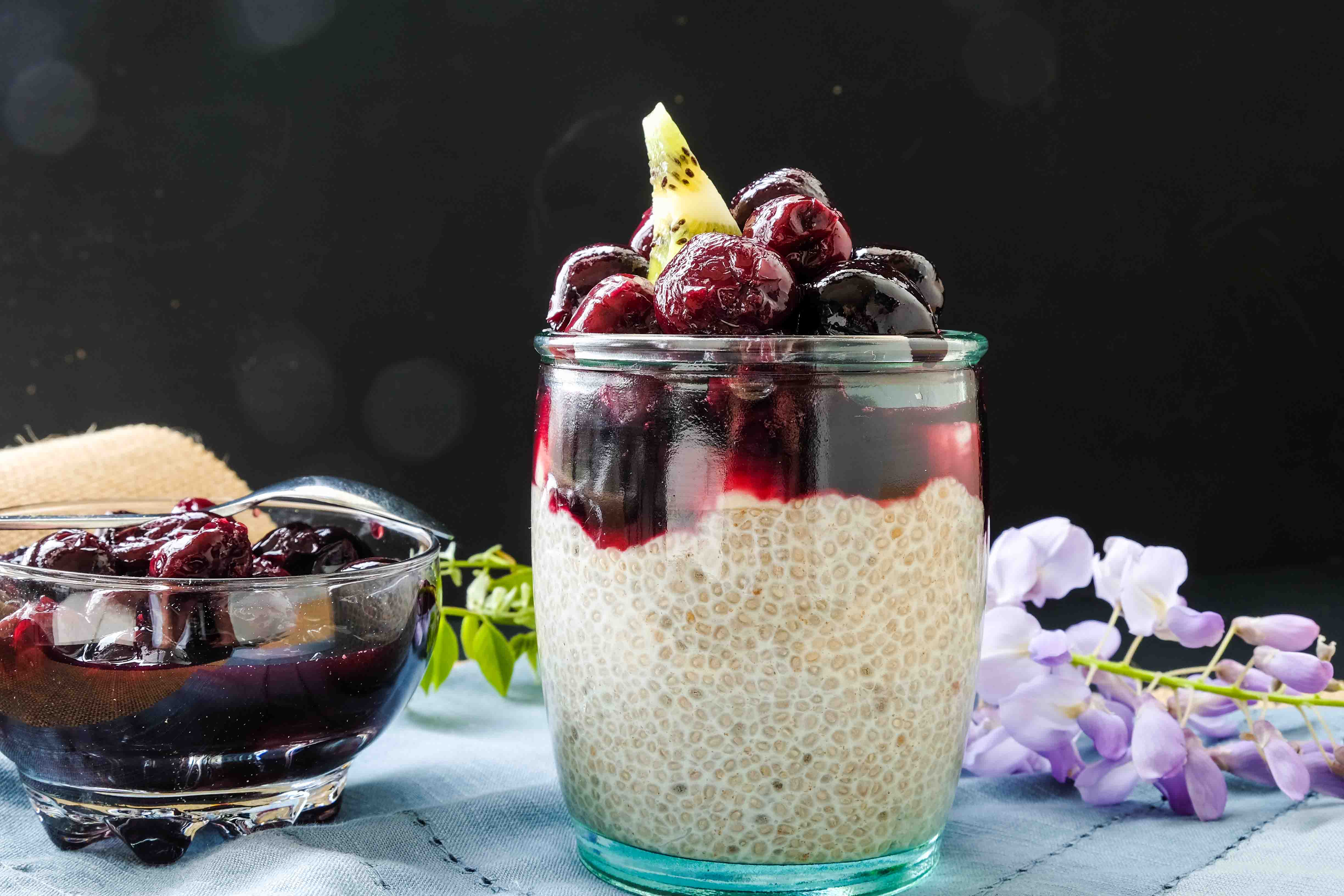 This cinnamon chia pudding with cherry compote is a classic with a cherry on top. Cherries are high in antioxidants, fiber, vitamin C all of which may play a role in cancer prevention. This yummy fruit also may help to increase your melatonin levels and improve your sleep. This healthy pudding may also help with weight loss.
Ingredients
2 cups coconut milk
1/3 cup plus 1 Tbsp. white chia seeds
2 Tbsp. agave nectar
1 tsp. pure vanilla extract
1 tsp. maca powder (optional)
½ tsp. GF ground cinnamon
CHERRY COMPOTE
1 lb. pitted fresh or frozen cherries
1 Tbsp. agave nectar or to taste
Zest of 1 lemon
TOPPINGS
2 bananas, sliced
2 Tbsp. hemp seeds
Instructions
In a medium size bowl combine coconut milk, chia seeds, 2 tablespoons of agave, vanilla, maca powder and cinnamon. Refrigerate for 4 hours or overnight
In a small saucepan, combine cherries, agave and lemon zest. Bring to a boil over medium-high heat. Reduce heat to low, cover and simmer for 5 minutes. Cool and refrigerate
To serve, divide chia pudding into 4 jars, top with sliced bananas, hemp seeds and cherry compote
Similar Recipes
Chocolate Chia Pudding
Indulge in this heavenly gluten-free dessert. This creamy chocolate chia pudding is rich in fiber, protein and antioxidants Read More
Prep Time
5 Minutes
Difficulty
Beginner
Serves
4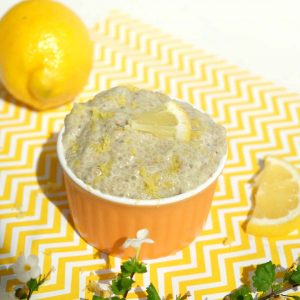 Gluten Free Lemon Cream Chia Pudding
Chia seeds are known to be among the most nutritious foods on the planet. Packed with omega-3 fatty acids, protein and fiber, to name just a few. Chia seeds are also gluten-free. In this scrumptious lemon cream chia pudding, I have added avocado and fresh lemon juice giving it a creamier texture and a bit […] Read More
Prep Time
10 Minutes
Difficulty
Beginner
Serves
6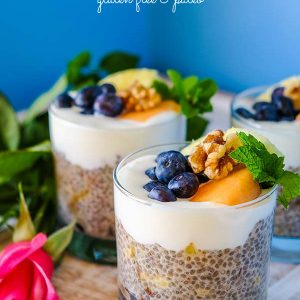 Pineapple Date Chia Pudding
There is no end to the imagination when making chia pudding. In this recipe, pineapple and dates naturally sweeten this healthy pudding. Both compliment each other making this superior chia pudding especially delicious. I have also added maca powder, which has plenty of health benefits, such as vitamin B, C, E calcium zinc and iron. […] Read More
Prep Time
5 Minutes
Difficulty
Easy
Serves
4
© Copyright 2017 Only Gluten Free Recipes. All Rights Reserved.