Chickpeas with Light Honey Mustard Dressing
Prep Time
10 Minutes
Difficulty
Easy
Cook Time
75 Minutes
Serves
4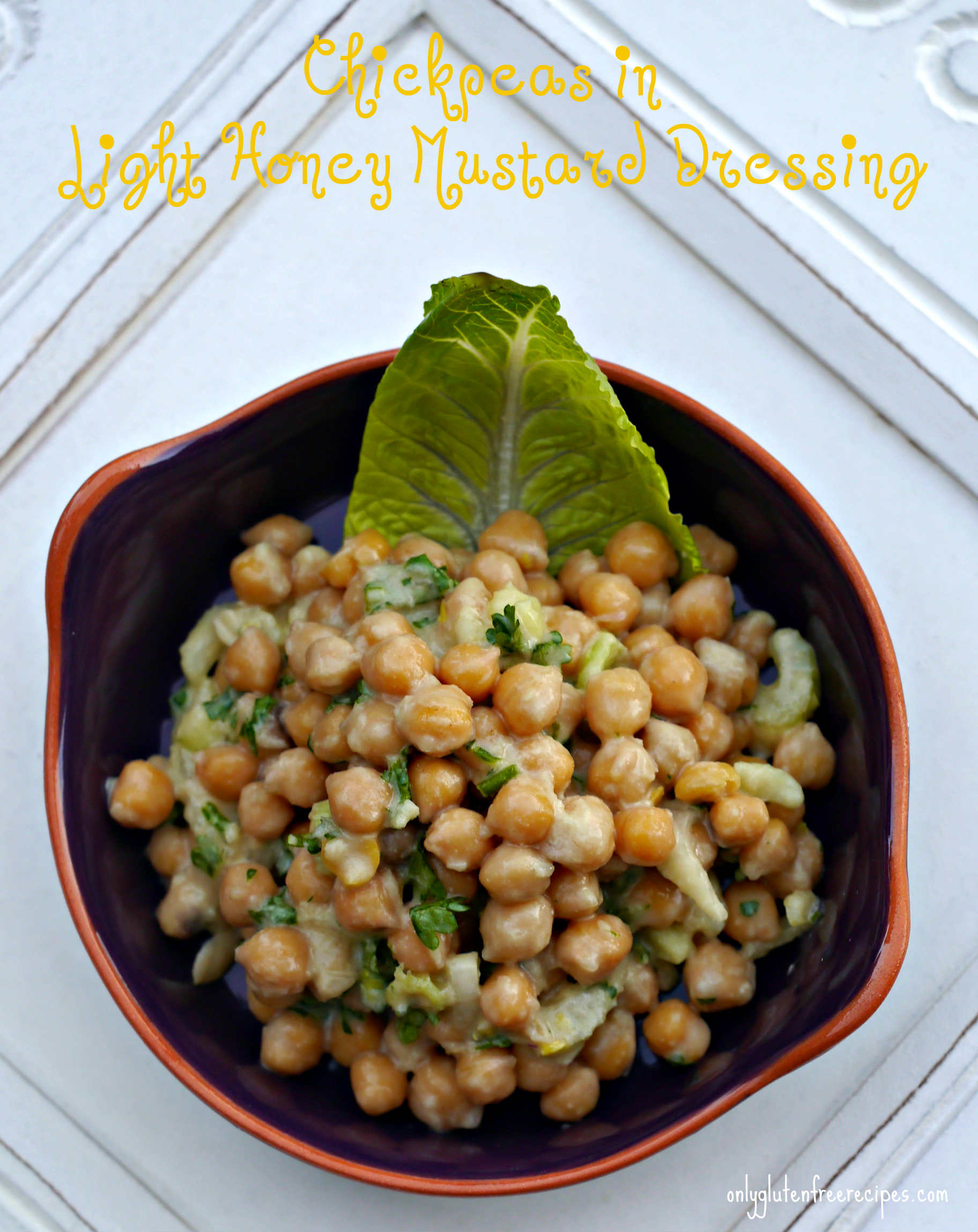 Average Rating: 4 | Rated By: 1 users
The earthy chickpeas soak up the light honey mustard dressing perfectly. Serve these succulent chickpeas as an accompaniment to broiled meats or as a robust lettuce wrap
Ingredients
1/2 pound dried chickpeas (garbanzo beans), soaked overnight in cold salted water at room temperature
1 whole onion
1 bay leaf
½ tsp. ground cloves
1 shallot grated
¼ cup gluten-free mustard
¼ cup full fat plain Greek Yogurt
¼ cup raw honey
1 tbsp. apple cider vinegar
1 tbsp. extra virgin olive oil
½ tsp. sea salt
3 celery stalks diced
¼ cup chopped fresh parsley
NOTE: All ingredients including spices must be gluten-free and preferably organic
Instructions
Drain chickpeas and place in a large pot with onion, bay leaf and cloves. Cover with cold water by 3 inches, cover and simmer until chickpeas are tender, about 1 hour and 15 minutes.
While the chickpeas are cooking prepare the dressing. Whisk together, shallot, mustard, yogurt, honey, apple cider vinegar, olive oil and sea salt
Drain and rinse the chickpeas under cold water and discard bay leaf and onion
Place chilled chickpeas, celery and parsley in a large bowl and pour the dressing on top. Gently toss until all the ingredients are well combined. Cover and refrigerate for 4 hours or for best results store overnight in the refrigerator. Stir just before serving
Tip; for best flavour and texture use dry chickpeas, but you can use 2 x (15 oz.) cans of drained and rinsed chickpeas.