Chicken and Chorizo Jambalaya with Black Rice
Prep Time
15 Minutes
Cook Time
75 Minutes
Serves
6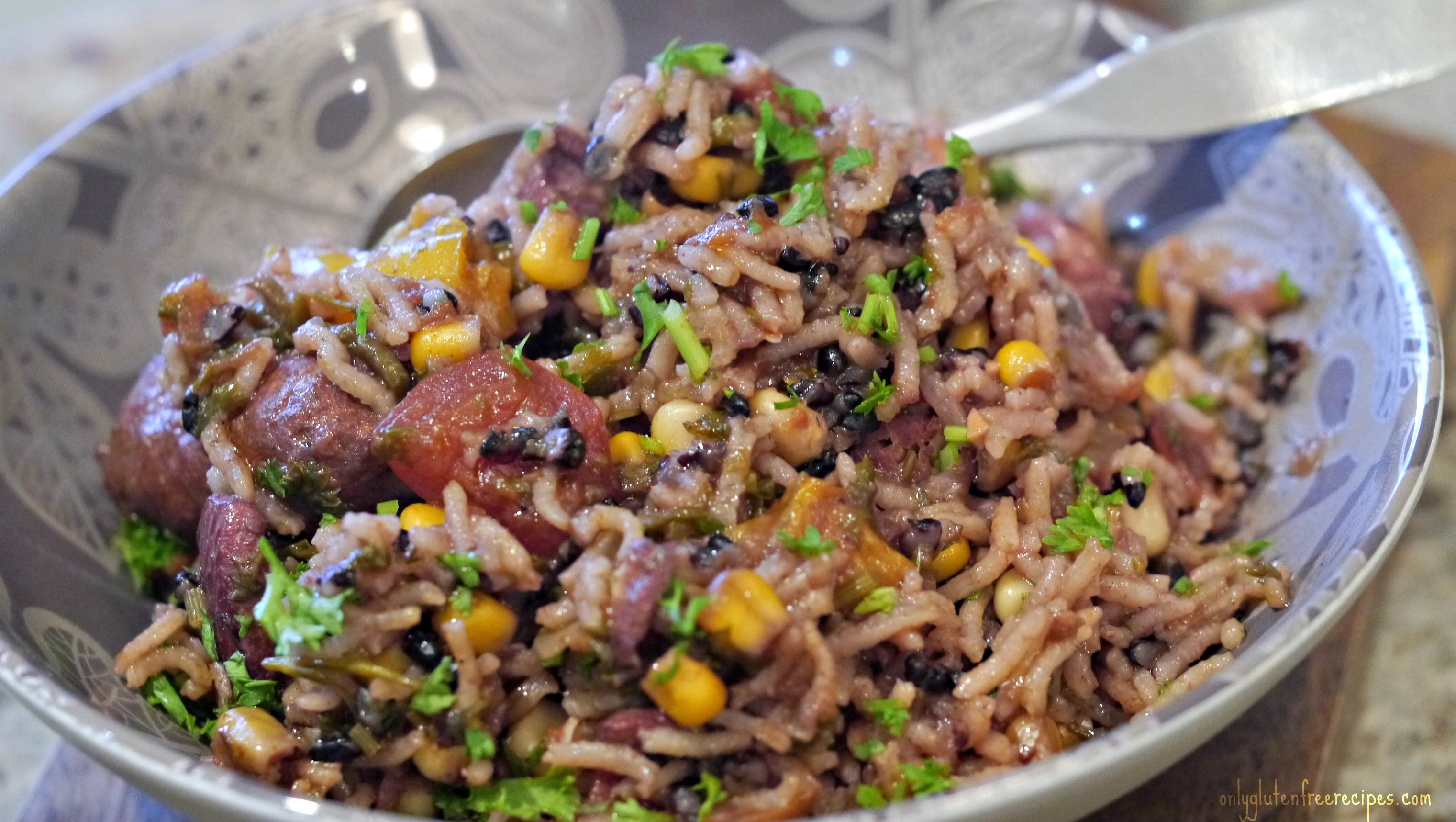 This deluxe rice pot with tender chicken, chorizo sausage and combination of black and white rice simmered in a robust sauce is exuding with flavour throughout. Black rice packs powerful antioxidants, highest of any rice variety
Ingredients
1 tbsp. extra virgin olive oil
1 large onion, chopped
1 tbsp. chili powder
1 tbsp. ground cumin
1 tsp. marjoram
1 tsp. sea salt
8 boneless, skinless chicken thighs, cut into bite-size pieces
1 yellow bell pepper cut into bite-size pieces
1 jalapeno pepper, remove seeds and chop (optional)
3 large tomatoes cut into bite-size pieces
1 ½ cups frozen corn
4 cups water
1 tbsp. apple cider vinegar
1 bay leaf
2 uncooked chorizo sausages, remove from casing and cut into bite-size pieces (most good butchers have gluten-free sausages)
1 cup black rice (known as forbidden rice)
1 cup long grain rice
1 bunch fresh parsley, chopped
NOTE: All ingredients including spices must be gluten-free. Preferably use organic ingredients whenever possible
Instructions
Heat olive oil in heavy bottomed pot, add onions and cook until translucent about 5 minutes. Stir in chili powder, cumin, marjoram and sea salt and then add the chicken. Brown the chicken on all sides.
Stir in peppers, tomatoes and corn, and then add water, apple cider vinegar and bay leaf. Bring to boil and then add chorizo. Cover, reduce the heat to low and cook for 30 minutes
Add the black rice, cover and simmer on low heat for 30 minutes, then add the long grain rice and parsley, cover and cook for 10 more minutes
Remove from the heat and rest for 10 more minutes. Give it a good stir just before serving
© Copyright 2017 Only Gluten Free Recipes. All Rights Reserved.