Chicken Alla Calabrese – Gluten-Free
Prep Time
15 Minutes
Difficulty
Easy
Cook Time
40 Minutes
Serves
4
Calabrese sauce originates in southern Italy and gives this chicken dish exceptional flavour. The chicken is layered with ham, tomatoes and buffalo mozzarella and is smothered in a delicious red pepper sauce then baked to perfection. Serve it up with gluten-free pasta, parsley rice or mashed potatoes.
Ingredients
8 organic chicken thighs, skinless and boneless
½ cup extra virgin olive oil
2 medium shallots, roughly chopped
2 organic red peppers, remove seeds, core and cut to large pieces
1 large organic tomato quartered
1 garlic clove, minced
½ tsp. organic, gluten-free dried rosemary or 1 tsp. fresh
¼ tsp. organic, gluten-free cayenne pepper
½ cup roughly chopped fresh organic basil leaves
1 cup of cream or full fat coconut milk (I used coconut milk)
8 thin slices of gluten-free ham
8 oz. organic cherry tomatoes, halved
8 slices buffalo mozzarella
Sea salt to taste
Instructions
Preheat oven to 375 F
Season chicken with salt
Heat 1 tbsp. of olive oil in an ovenproof pot, add chicken and brown on all sides, then set aside.
Combine remainder of olive oil shallots, red peppers, tomato, garlic, cayenne and basil leaves in a blender and process for 1 minute.
Add coconut milk and pulse until all ingredients are well combined. Taste and season with salt
Layer ham, tomato and cheese on top of chicken and cover with sauce.
Bake for 35 minutes or until chicken is thoroughly cooked. Serve with fresh basil.
Similar Recipes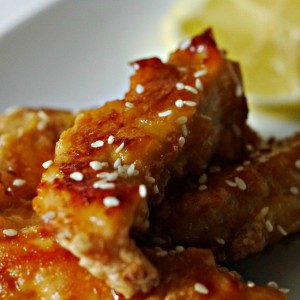 Lemon Chicken – Gluten Free
If you love authentic Chinese lemon chicken, you will love this recipe. This is a gluten free version without the deep-frying or processed sugar, making it a healthier option. To serve just add some steamed rice or steamed veggies, or serve as an appetizer. Read More
Prep Time
20 Minutes
Difficulty
Intermediate
Cook Time
20 Minutes
Serves
4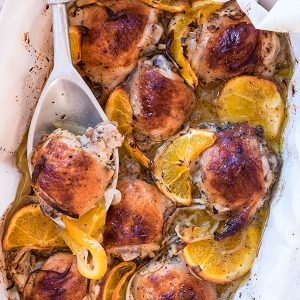 Roasted Citrus Chicken Recipe
This delightful citrus chicken dish is a combination of oranges and Italian spices. The chicken is deliciously tender and juicy, cooked in an amazing zesty sauce. The fresh citrusy flavour with caramelized crispy skin makes this an outstanding chicken dish. The great part about this recipe, it is so easy to make. Serve with mashed […] Read More
Prep Time
10 Minutes
Difficulty
Easy
Cook Time
50 Minutes
Serves
4
Super Easy Thai Green Curry Chicken
Thai food is known for using fresh rather then dried herbs and spices, plenty of red hot chili peppers and instead of salt they use fish sauce. Thai food main ingredient is a good variety of vegetables with small amount of meat and very little fat, thus making it a healthy diet. It is also […] Read More
Prep Time
20 Minutes
Difficulty
Beginner
Cook Time
25 Minutes
Serves
4
© Copyright 2017 Only Gluten Free Recipes. All Rights Reserved.