Caesar Salad In Parmesan Cups
Prep Time
30 Minutes
Difficulty
Moderate
Cook Time
12 Minutes
Serves
4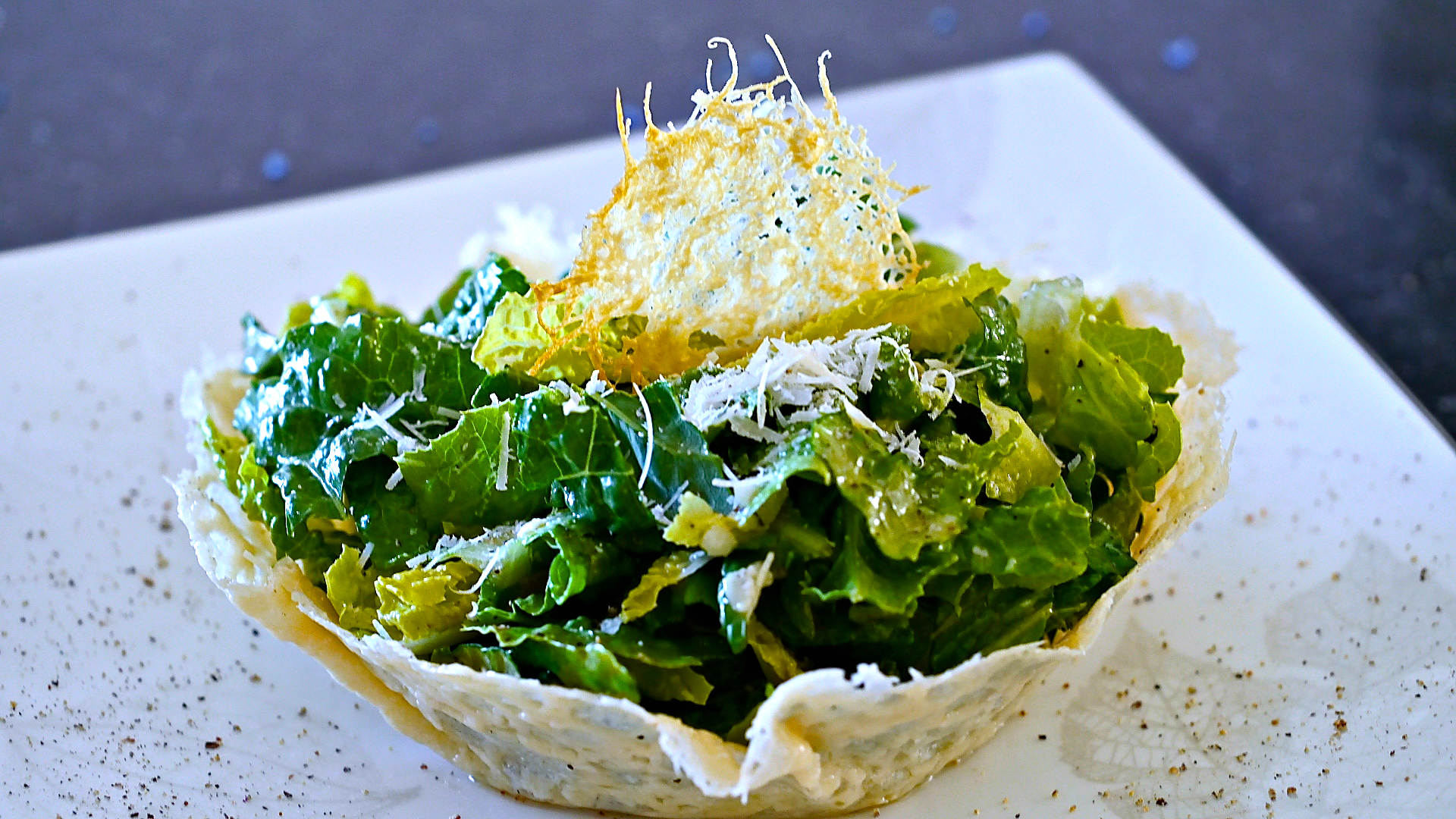 You will impress your guests when serving Caesar salad in these beautiful Parmesan cups. The dressing is light with a hint of garlic and the salad is topped with  Parmesan crisp. For our best Caesar Salad dressing click here >
Ingredients
For the Parmesan cups • 1 cup freshly grated parmesan cheese • Freshly ground organic GF black pepper
For the Parmesan chip • 8 tsp. Parmesan cheese
For the salad 1 head of freshly washed organic romaine lettuce, thoroughly dried with salad spinner and torn into bite-size pieces
For the dressing see our Caesar salad dressing
Instructions
For the Parmesan cups ~ Line a large baking sheet with silpat or parchment paper. Spoon ¼ cup of cheese 2 inches apart on baking sheet. Spread mount to 4-inch diameter, sprinkle with pepper and bake at 375 F until golden and bubbly about 4 -5 minutes Remove from baking sheet and place over an upside down bowl until it cools and you will have a perfect Parmesan cup.
For the Parmesan chip ~ Spoon 2 tsp. of cheese per chip onto a silpat or parchment paper. Spread cheese to 2-inch diameter 1 inch apart. Bake 2 – 3 minutes at 375 F, then cool
To construct ~ place Parmesan cup on to a salad plate. Toss romaine with salad dressing and fill each cup with the salad. Top with some freshly grated Parmesan cheese and Parmesan chip
© Copyright 2017 Only Gluten Free Recipes. All Rights Reserved.