Best Smoothie Power Bowl
Prep Time
5 Minutes
Difficulty
Easy
Serves
2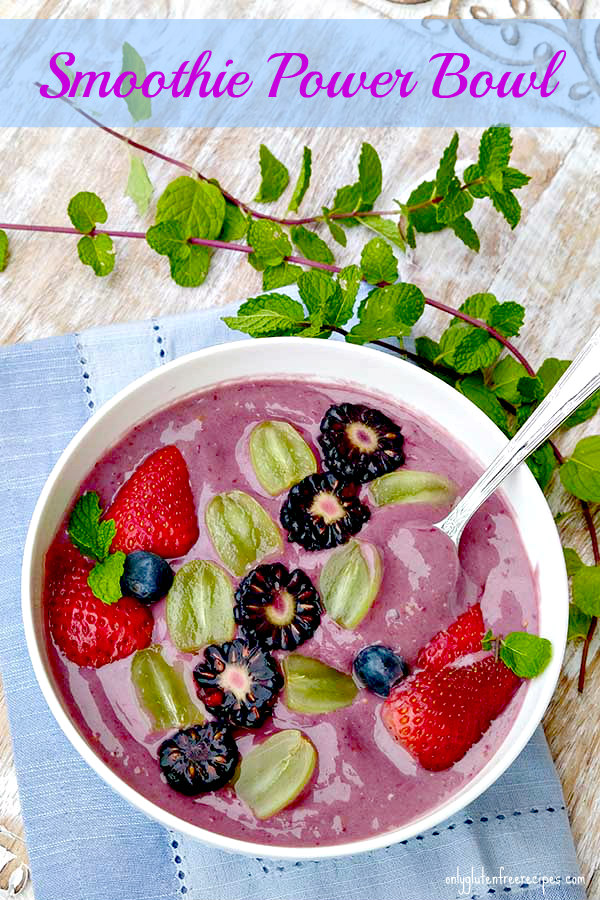 Smoothie bowls are delicious, healthy, satisfying and super easy to make. This nutrient dense smoothie power bowl takes only 5 minutes to make. Using fresh fruit as a sweetener with added flax and maca powder makes this smoothie a powerhouse of smoothie bowls. I have chosen berries and grapes for the topping, but you can choose any fresh fruit or nuts and seeds that you desire. Enjoy!
Ingredients
1 medium ripe banana, sliced and previously frozen
1 cup frozen organic blackberries
½ avocado
1 tsp. maca powder
1 tsp. GF ground flaxseed
1 ½ cups cashew milk
Toppings; organic strawberries, organic grapes, organic blackberries, organic frozen blueberries, fresh mint
Instructions
Add all the smoothie ingredients to a high-speed blender and blend until smooth
Divide smoothie between two bowls and top with desired toppings
Similar Recipes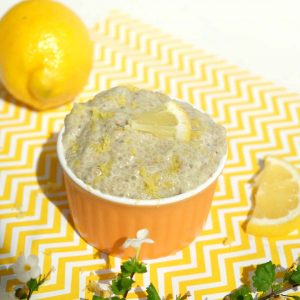 Gluten Free Lemon Cream Chia Pudding
Chia seeds are known to be among the most nutritious foods on the planet. Packed with omega-3 fatty acids, protein and fiber, to name just a few. Chia seeds are also gluten-free. In this scrumptious lemon cream chia pudding, I have added avocado and fresh lemon juice giving it a creamier texture and a bit […] Read More
Prep Time
10 Minutes
Difficulty
Beginner
Serves
6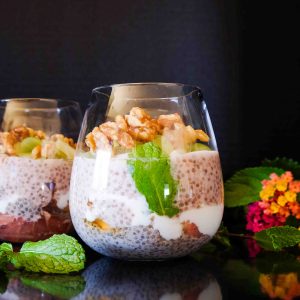 Layered Chia Pudding with Maple Glazed Walnuts
When it comes to chia pudding, it is so versatile. In this chia pudding, I used grapefruit, yogurt, grapes and honeydew melon keeping the pudding cool and refreshing. The maple glazed walnuts add a nice crunchy texture to the lightly sweetened pudding. If you feel creative choose your layers and toppings, it is so much […] Read More
Prep Time
10 Minutes
Difficulty
Easy
Cook Time
3 Minutes
Serves
4
Overnight Oats with Chia and Flax
Morning time is a busy time for most of us. Having power packed gluten free breakfast ready when you are, is always welcome. This creamy and delicious overnight oatmeal is packed with healthy nutrients such as omega-3, protein, iron, vitamin C, fiber and calcium. Enjoy! Read More
Prep Time
5 Minutes
Difficulty
Easy
Serves
2
© Copyright 2017 Only Gluten Free Recipes. All Rights Reserved.