Baked Ricotta with Honey and Lemon Dressing
Prep Time
10 Minutes
Difficulty
Beginner
Cook Time
20 Minutes
Serves
4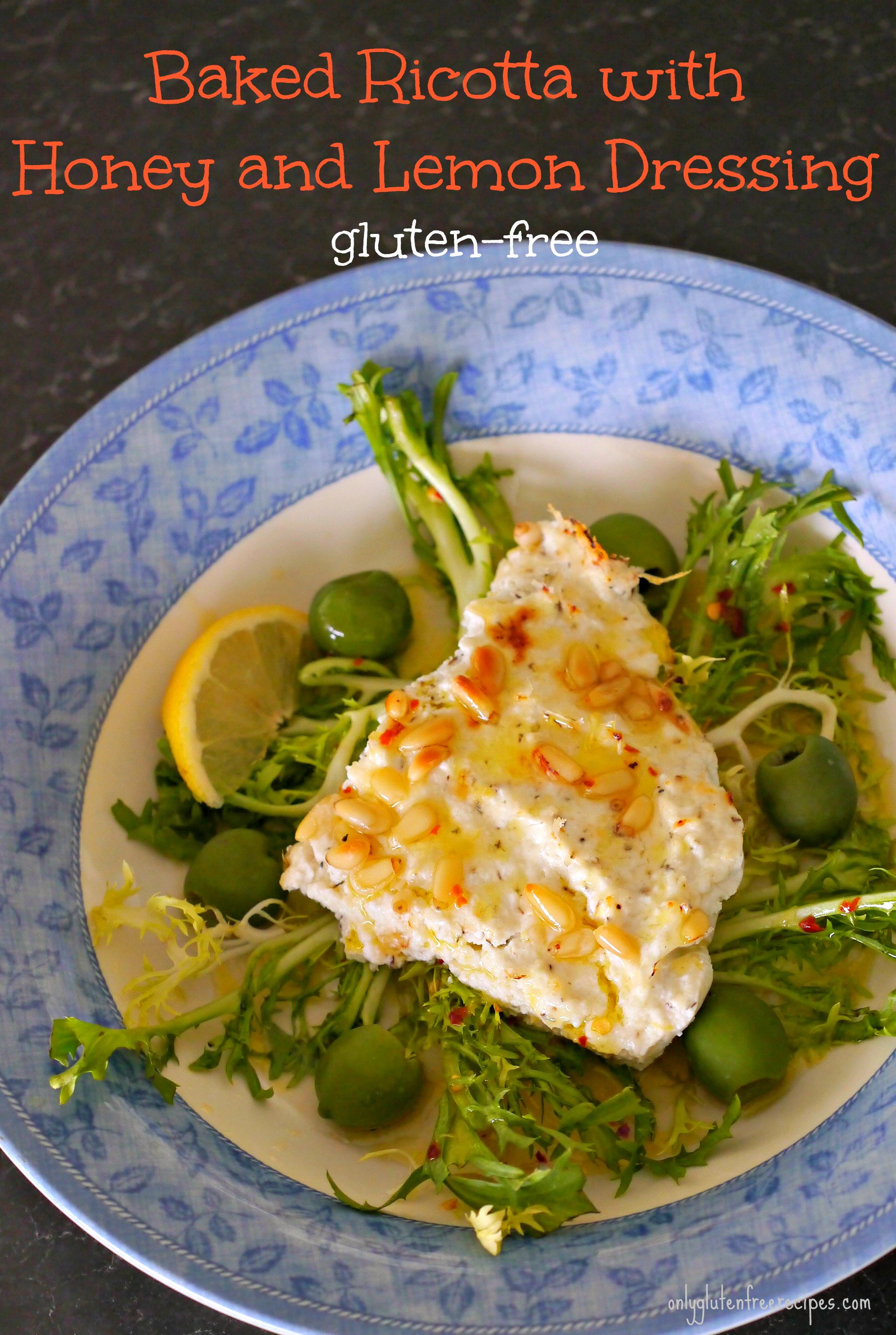 Average Rating: 5 | Rated By: 1 users
The gentle ricotta topped with pine nuts is baked to perfection and then served with curly endive and zesty dressing. This tantalizing dish can be served as a starter or as a light lunch.
Ingredients
2 cups (250 mL) ricotta cheese (I used light cheese)
½ cup (125 mL) freshly grated Parmesan cheese
2 tsp (10 mL) grated lemon zest
1 tsp (5 mL) chopped fresh organic thyme or 1/2 tsp (.25 mL) dried
1 minced garlic clove
2 Tbsp (30 mL) pine nuts
Few leaves of organic curly endive (enough for 4 servings
¼ cup (60 mL) green olives
Gluten-free coarsely ground black pepper to taste
FOR THE DRESSING
1 Tbsp (15 mL) raw honey
Juice of 1 organic lemon with zest
¼ cup (60 mL) extra virgin olive oil
¼ tsp (.25 mL) gluten-free, organic red chili flakes
Himalayan coarse pink sea salt to taste
Instructions
Preheat oven to 375 F (190 C)
Mix the ricotta, ¼ cup Parmesan, lemon zest, thyme and garlic together
Line an 8-inch ovenproof frying pan with parchment paper
Spoon out ricotta cheese in the prepared frying pan and then sprinkle with balance of the Parmesan cheese and pine nuts
Bake for 20 minutes or until golden brown, and then cool completely
Whisk all the ingredients for the dressing together
To serve, arrange few leaves of the endive on the plate with some olives and drizzle with the dressing, top with one slice of baked ricotta and drizzle with a little more dressing.