Gluten Free Apple Walnut Cake
Difficulty
Easy
Serves
6
Start your day with a healthy gluten free apple walnut cake. Apples and walnuts are a delightful combination of interesting textures and earthy flavours. When combined, these two ingredients are rich in healthy nutrients, protein and fiber. Add a scoop of coconut ice cream and enjoy this apple walnut cake as an afternoon snack.
Ingredients
4 organic apples, peel, core and cut to small pieces
1 cup sulfite free currants or raisins, soak in hot water for 30 minutes then drain
1 tbsp. + 1 tsp. gluten-free, organic ground cinnamon
½ cup pure maple syrup
2 cups all purpose gluten-free flour + 2 tbsp. gluten-free, aluminum free baking powder
1 tbsp. demerara sugar
1 tbsp. gluten-free, organic ground flaxseed
½ tsp. sea salt
1 cup filtered water
1 organic egg
1 cup chopped raw walnuts
3 tbsp. melted coconut oil
Instructions
Preheat oven to 400 F
In a large bowl combine apples, currants/raisins, 1 tbsp. cinnamon and ½ cup maple syrup and then set aside
In another bowl combine flour, baking powder, demerara sugar, flaxseed, salt, and 1 tsp. cinnamon
In a small bowl whisk together water and egg, then add egg mixture to flour mix and combine until all the dry ingredients are covered, do not over mix
Pour batter into an 8" x 10" baking pan lined with parchment paper and sprinkle with walnuts and then pour melted coconut oil on top. Bake for 30 minutes
Similar Recipes
Buttermilk French Toast Casserole – Gluten-Free
A twist on traditional French toast, in this recipe the bread, is infused with buttermilk, cinnamon and maple syrup and then sandwiched with tasty apples with a crispy pecan topping that will warm your heart and soul. Read More
Prep Time
15 Minutes
Difficulty
Easy
Cook Time
45 Minutes
Serves
6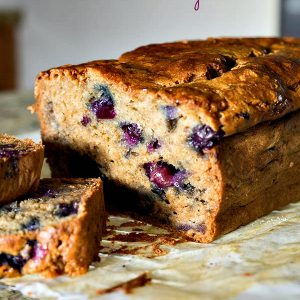 Gluten Free Blueberry Banana Bread
If you are on the hunt for that perfect gluten free banana bread, search no further. Not all gluten free banana bread is created equal. This delightful banana bread is a combination of ripe bananas with fresh blueberries, thus loaded with antioxidants. The ripe bananas add most of the sweetness and by adding yogurt and […] Read More
Prep Time
15 Minutes
Difficulty
Easy
Cook Time
55 Minutes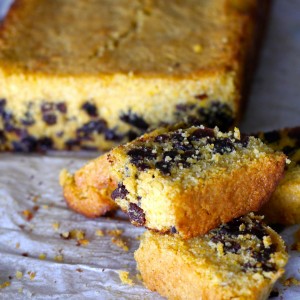 Gluten Free Raisin Cornbread
This moist, sweet cornbread is a perfect anytime snack or add it as a side to your favourite curry or ribs. The raisins add a touch of sweetness, making it a favourite of all cornbread. Read More
Prep Time
10 Minutes
Difficulty
Easy
Cook Time
40 Minutes
© Copyright 2017 Only Gluten Free Recipes. All Rights Reserved.